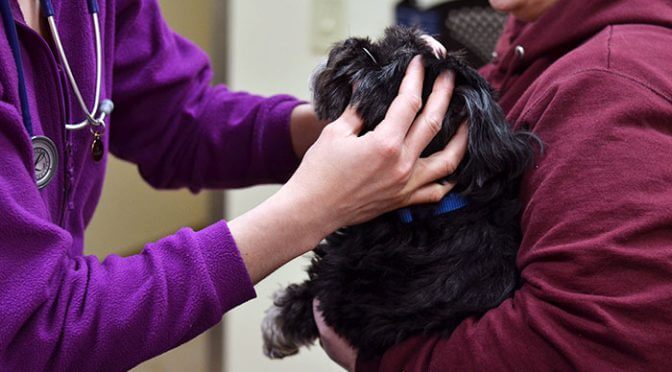 Your Family,
Our Priority.
We understand that a pet is not merely an animal, but a beloved member of your family, which is why we treat them as such. We have pets of our own, and will do everything in our power to ensure yours return to you better than when they walked, (or scampered or hopped) into the clinic. We provide the highest level of small-animal care in the area, and we're proud to say we approach each patient as if they're our only patient.
---
Wellness Check-Ups
These routine exams help prevent possible illness or complications down the road to ensure a healthy, happy life. We also take these opportunities to answer any questions you may have and/or provide information on how to best care for your pet at home. Our ultimate goal is for you to require our services less.
Dentistry
Oral health is one of the most important, and one of the most commonly ignored issues for pets. Oral health issues can create other health problems, e.g. heart, liver and kidney disease. You may not know there are serious dental issues, since your pet can't tell you. We provide comprehensive dental radiographs to look under the surface of the gums, to examine the entire tooth, gum and jaw health. Our service also includes cleaning, polishing and bloodwork prior to the procedure.
Dermatology
With skin afflictions being so breed-specific, it can be difficult to pinpoint issues on your own. Our technicians and veterinarians are trained to identify and diagnose a variety of conditions in a variety of animals.
Radiology and Laboratory Services
We perform an assortment of non-invasive or minimally invasive testing procedures in order to discover the root of your pet's internal issues or disorders. Our veterinarians are trained internists, eliminating the need to call on an external specialist. Ultrasound technology is used to diagnose irregularities or masses within a pet's abdominal area. This technology provides an additional tool to find the correct diagnosis and give greater peace of mind.
Orthopedic Surgery
Let us help bring back the playfulness in your friend. Our surgeons are on call 24 hours a day, 7 days a week, so if there is something that needs to be addressed immediately, we will make time. We provide consultations, as well as diagnose and treat a variety of orthopedic injuries that could arise during any stage of your pet's life.
Micro ID Chips
We know the feeling of helplessness when your pet is lost, and you have no choice but to search tirelessly, many times returning unsuccessful. The fear that they could be gone forever is something no owner wants to go through. These chips require no maintenance, and the simple procedure is minimally invasive. Ask us how you can put your mind at ease, today.
In-home Euthanasia
We offer at-home services for the peaceful passing of your beloved family pet. This helps to minimize a stressful and emotional situation for everyone. Memorial paw prints are available upon request and we can transport your pet to Schriver's Memorial for pet cremation services.